Before Mission Street Café was even a dream, the Simpson family owned a humble plot of Geismar land on Highway 73 that would eventually become the friendly restaurant that locals and travelers know so well.
Originally, the property was going to be sold off into lots after a connecting road was built. That was the mission, so Gay Simpson, the mother of the family, named the road Mission Street. The Simpson family kept the corner lot of the land, and in 1997, Chet Simpson, the father, decided to construct an Exxon station. Afterward, the Simpsons opened a convenience store and planned to let a pizza company share the occupancy of the location. This contract fell through, so the family put on aprons and got to work running a small breakfast café.
The Dutchtown Tiger Mart Exxon convenience store on Mission Street was running like clockwork with more patrons than it could handle. So, in 1998, the Simpson family decided to open a larger, restaurant-like facility to accommodate the many hungry customers. The new restaurant was named Mission Street Café and a variety of classic Louisiana dishes, including shrimp poboys, bread pudding and their famous fried gizzards were served. The rest is history!
Currently under management of the Simpson sisters, Kelli Simpson and Jacey Simpson Lambert, Dutchtown Tiger Mart Exxon and Mission Street Café continue a tradition of proudly serving quality, Southern home cooking and offering a family-friendly experience that has everyone coming back for more!
"We believe in bringing families together through our family owned and operated business."
Jacey S. Lambert, Owner
[powr-social-feed id=missionstsoc]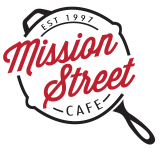 © 2018 Mission Street Cafe.